History:
In 1883 the type was changed to the familiar Liberty head. This type appeared without the word CENTS on the coin, merely a large letter V.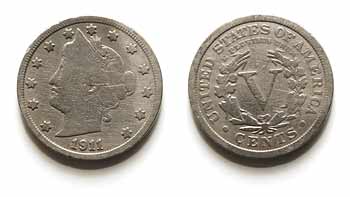 These centless coins were coldplated and passed for five dollars. Later in that year the word CENTS was added.
The designer was Charles E. Barber. V nickels were made from 1883 to 1913. The most valuable is a 1885 in EF40. V nickels weigh 5 grams and have a composition of an alloy of 75% copper and 25% nickel. Still looking for my first.