History:
These quarters were made between 1916 and 1930. It was designed by Hermon A. Macneil. The left arm of Liberty is upraised and bearing a shield in the attitude of protection.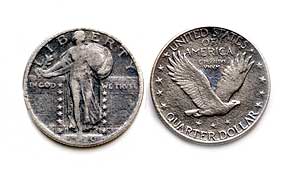 The right hand bears the olive branch of peace. The designer's initial M is located above and to the right of the date.
In 1925 a depression was made in the pedestal on which Liberty stands and which bears the date.
The most valuable of the series
is a 1916 or an 1919s( 8 over 7). The mint mark is left of the date. Still looking for my first.