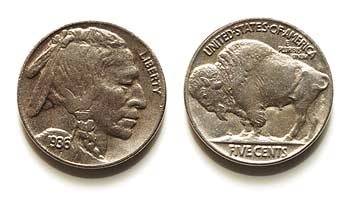 History
These pieces are known as Buffalo, Bison, or Indian Head nickels. In the first year of issue, 1913, there were two distinct varieties, the first showing the bison on a mound, and the second with the base redesigned to a thinner, straighter line. James E. Fraser designed this nickel employing three different Indians as models. His initial F is beneath the date.
The bison was modeled after Black Diamond in the New York Zoological Gardens.
Matte proof coins were made for collectors from 1913 to 1917. Minted from 1913-1938. The most valuable Buffalo is a 1937 3-legged. Buffalo nickels weigh 5 grams and are made out of an alloy of 75% copper and 25% nickel. Still looking for my first.